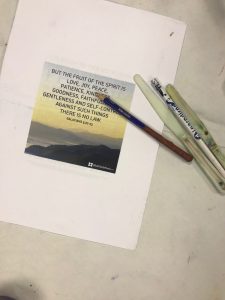 Easter Art Competition 2019
Thanks to Portishead Nautical Trust, we were able to run art workshops over Term 2 and 3 with Sophie Rae. We learnt how to use stencil and stamps to create pieces relating to the themes of love, joy, peace, patience, kindness, goodness, faithfulness, and gentleness. To round off this project, we are inviting young people between ages 8 and 18 to participate in an art competition for easter.
To enter the competition, we ask that you respond to one or as many of the themes as you like in a small to medium format piece that would then be displayed for a 2 week period. There will be three age categories, 8-11, 12-14 and 15-18. Each age category has the same prize available to the winner, to be judged by a Trustee of Clevedon YMCA, a youth worker and a young person. The winner of each age category will be awarded a £40 Cass Art Voucher (art supplies shop in Bristol) and a chocolate pack. All entries will receive a chocolate pack.
To enter, we ask that you submit an original piece by the 10th of April, 2019 accompanied by the form below. If you have allergies or dietary requirements related to chocolate, please email Ashlee Carter – ashlee.carter@clevedon.ymca.org.uk